Photo by Scott Boldt
Oregon Football
Player Spotlight: Spencer Webb
---
Next up in the Spotlight series is tight end Spencer Webb.
Webb flashed his potential numerous times last season. And with another off-season to improve his blocking and receiving skills, he could be in line for a big role in the Oregon offense as he heads into his redshirt sophomore season (he appeared in only two games as a freshman, which allowed him to preserve a year of eligibility).
At 6-6 and 251 pounds, Webb is a physical specimen, but it's not just his size that makes him a threat. What makes him special is that he combines size with an incredible athletic ability.
Webb quickly became familiar to college football fans nationally after his incredibly acrobatic touchdown catch against Auburn. Now that I finally figured out how to include gifs in stories, you can relive that moment over and over.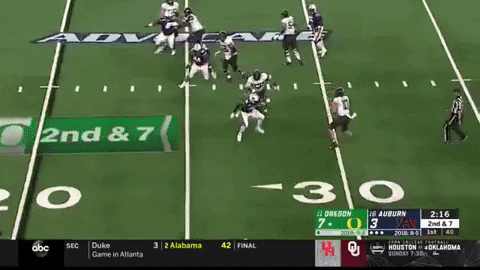 In Arlington, Webb went up and twisted his body against the direction it was moving to snag the ball over senior cornerback Javaris Davis, who is now competing to make the roster of the Super Bowl champion Kansas City Chiefs. It was one of those rare moments where it felt like you were watching the start of a special player's career.
However, during the rest of 2019 Webb didn't produce at the level that many had hoped for. He finished his redshirt freshman campaign with 18 catches for 209 yards and 3 touchdowns. While Webb didn't see a ton of action in September, he had a huge moment against Washington.
On Oregon's first drive, the Ducks were in striking range of the end zone. Opening with a touchdown is obviously important for any visiting team, but doing so against your biggest rival is that much sweeter.
Webb ran up the seam and veered slightly to his left to create an open passing lane for Herbert. The quarterback read it and found a wide open Webb.
Webb's third touchdown of the season is one of my personal favorites.
Oregon was up on Arizona, but the Ducks were intent on building an even-bigger lead. Herbert hit Webb on a beautiful back-shoulder ball that Webb played perfectly, then bulled his way in for the score.
Herbert's throw was one of his better ones, but Webb did everything right to put himself in position for the touchdown. I could watch this clip over and over again.
In the absence of the graduated Jacob Breeland and Ryan Bay, Webb is expected to be a big offensive weapon in 2020. He's more of a pure pass-catching tight end, as his blocking is still far from where it needs to be. But that doesn't mean he'll never see the field.
Webb is such a nightmare – athletic, 6-6 tight ends don't grow on trees – that it's often an instant mismatch when he's on the field. Even if the defense expects a pass whenever he's inserted, he is so skilled that it might not really matter.
With tall guys like Devon Williams and Bryan Addison now more available, any combination of those guys lining up with Webb is a headache for a defensive coordinator – especially in the red zone. It's hard to cover one super-athletic, tall receiver, let alone three.
If Webb can stay healthy and add to his repertoire, he could be in for a massive 2020. We've seen him make 20-plus-yard catches multiple times, but can exploit the intermediate routes as well?
I can't wait to see what's in store for Webb this season.
Never miss the latest news from ScoopDuck!
Join our free email list