Photo by Scott Boldt
Oregon Football
Player Spotlight: Mykael Wright
---
Cornerback Mykael Wright came into his freshman season looking up at a couple of excellent multiyear starters. And besides Deommodore Lenoir and Thomas Graham Jr. on the depth chart, several others started out 2019 ahead of the 4-star freshman.
It appeared it might be tough for Wright to crack the rotation, but after a couple of great plays against Montana, he started to see his snap count rise. By the end of the year, Wright was absolutely stellar -- and Pro Football Focus stats show why.
Wright allowed just 8 catches on the 23 targets in his direction. What's more, he was judged to be playing tight coverage on 17 of those 23 attempts.
Another stellar aspect to Wright's game for which he doesn't get enough recognition is his ability to tackle. On his 25 attempts, he missed a grand total of zero.
Wright's ability to wrap up in space was really impressive. He looked like he's been doing it for years.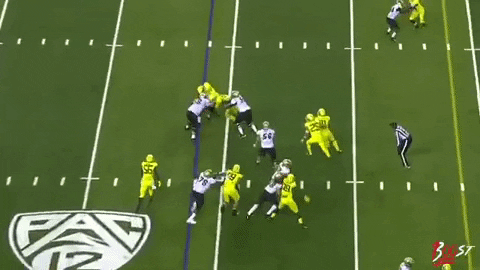 Not only was he great at wrapping up, but on a few plays Wright used his momentum to deliver a really big hit.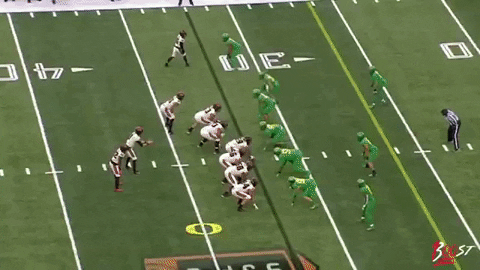 Having a cornerback who makes stops is huge not only in the passing game, but also against the run. Most fans only really notice if a guy constantly MISSES tackles, so it can be one of those things that's easy take for granted.
Oh, and just for fun, here's another great example of him making a tackle in space against the Huskies.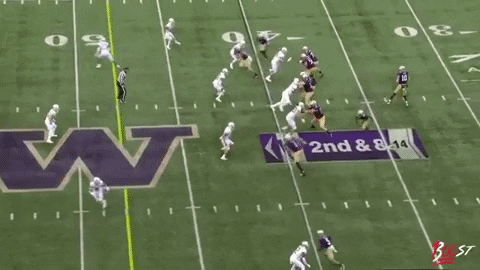 Another weapon in Wright's quiver is the ability to open his hips quickly to shadow a receiver and make a play on the ball. He's so fluid that he can cover all the routes.
An example of that skill is his lone interception, which came against Montana.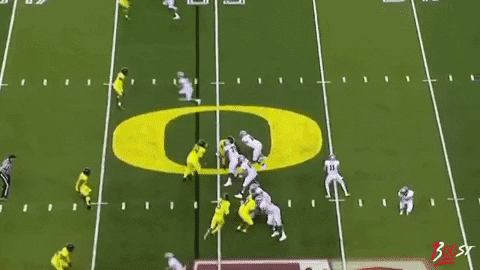 I wish I could find the clip of Wright going one-on-one against Michael Pittman Jr. in the USC game. He played great coverage on the future pro, sticking with Pittman even after he made a double move up the sideline.
I couldn't write this without bringing up the fact that Wright is an absolute weapon as a kick returner. I know this GIF is a bit long, but enjoy it in all its glory.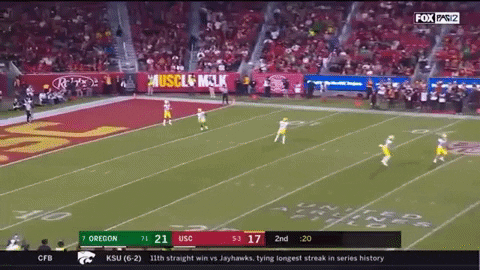 You always see replays of that return, but Wright had another huge one against the Beavers. Unlike the straight-line sprint in Los Angeles, he employed some shifty moves around midfield to shake a couple of defenders and make the house call.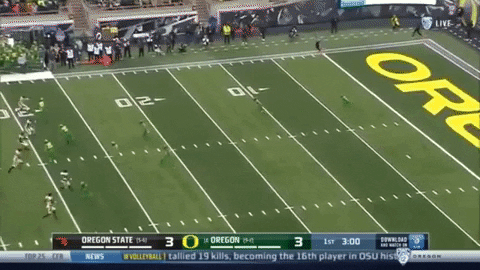 A guy who's that dangerous with the ball in his hands offers such a big advantage. Kick returns can be a bit fluky, and there's no guarantee that over a full season, Wright's late-season explosion will be duplicated.
Still, Wright had 10 total kick returns in 2019 and averaged 38 yards per return. That wasn't quite enough attempts to qualify for the yards-per-return leader board, but if he had it would've been good for second in the nation.
Wright flashed his potential early, but by year's end it was impossible for defensive coordinator Andy Avalos to keep him off the field. He really caught my eye, and he quickly became one of the team's better defenders.
True, Wright didn't play as many snaps as some other guys. But when he got his opportunity, his play did the talking for him.
With Lenoir and Graham both returning for their senior seasons, it may be tough for him to get a full workload in 2020. But I do believe he will be a top-3 sophomore cornerback in the nation -- and there's an argument for him at No. 2 just behind LSU's Derek Stingley Jr.
I'm not trying to over-hype Wright, but I do think he could join Kayvon Thibodeaux as a first-round selection in the 2022 NFL draft. He possesses all the traits that make up an elite cornerback: fluid hips, great athleticism, amazing play recognition and the ability to not get burned either by speed guys or bigger, more physical receivers.
I can't wait to see how the next few years unfold for Wright. I am excited to see just how good he could become.
Never miss the latest news from ScoopDuck!
Join our free email list